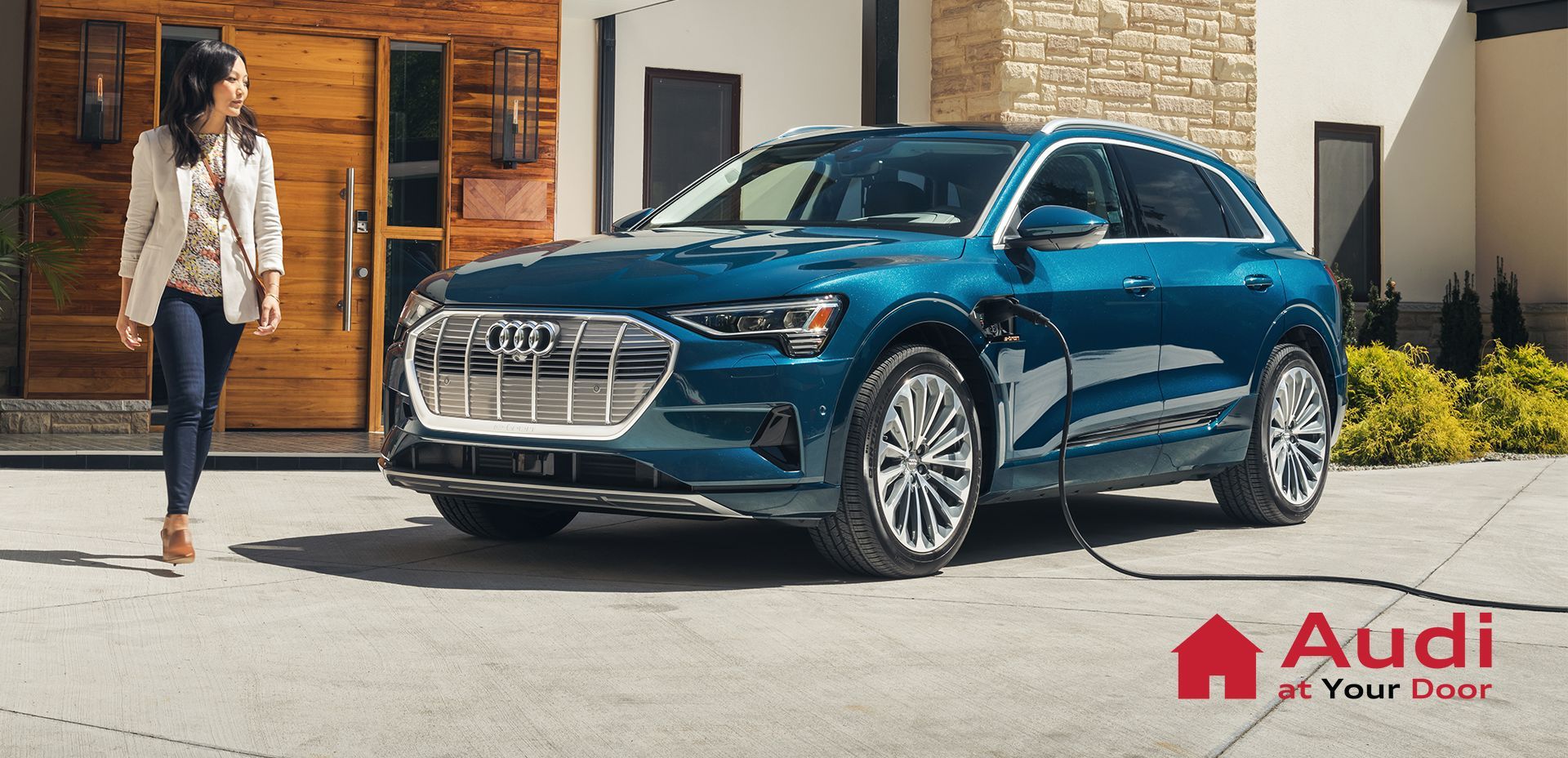 Audi at Your Door 
A personal Audi experience as thoughtfully designed as our vehicles.
We recognize the needs of our shoppers and owners have changed.  Audi at Your Door is designed to give you a premium online shopping experience and peace of mind that your Audi dealer operates with your safety in mind. 
With Audi at Your Door, through participating dealers, you can: 
Have the test drive brought to you 
Appraise your trade-in virtually 
Work remotely to purchase your vehicle and have it delivered directly to your door 
Have your vehicle picked up and returned for service
Shelter in Place Sales Process
To continue to service the community needs and maintain transportation needs for essential services, we will practice the following measures when vehicles sales are required.
Online inquiries. Internet sales associates will be available to facilitate the vehicle sales negotiation utilizing remote application, through video conferencing, an online video, or by phone - whatever works best for the customer.
Offsite Deliveries. Whenever possible the vehicles will be delivered to the customer at their residence utilizing social distancing measures. When necessary, any documents not signed digitally or scanned in prior to delivery will be signed by the customer utilizing a new pen which they will be able to keep. All dealership required signature will be performed prior to delivery. 
Limited Onsite Deliveries. When an onsite delivery becomes necessary, this will be done via a similar method as the offsite delivery. The customer will take delivery of the vehicle outside the dealership in an open area where 6 feet minimum distance can be easily maintained. 
Test drives. Any test drive is performed without an employee accompaniment. The Customer will go alone.
Face-to-face attempts to sell additional products. There is to be no "up-selling" at the consumer's home; this is a delivery, not a sales call. 
In-person explanation of vehicle features. The traditional delivery process, where a delivery specialist explains how to use the features of the vehicle, in the same manner as the negotiation.
EMPLOYEE PRECAUTIONS AND CONDUCT
Sick Employees - Stay Home. Only healthy employees who do not have a fever or cold-like symptoms should be permitted to perform deliveries. 
Hand Washing. - Wash hands often with soap and water, for at least 20 seconds.
Hand Sanitizer - When soap and water are not available, use a hand sanitizer that contains at least 60% alcohol. Delivery drivers should carry hand sanitizer or if using a flat-bed delivery truck, keep a bottle of sanitizer in the truck.
Clean and Disinfect - Frequently used surfaces, including the steering wheel and door handles of delivery vehicles, should be regularly cleaned and disinfected.
Disposable Gloves - When checking a customer's identification, or exchanging documents with a customer, wear disposable latex gloves. Use a fresh pair of gloves for each delivery.
Social distancing - The disease is spread when an infected person coughs or sneezes. To the extent available, use a mask and, to the extent possible, stay at least 6 feet away from other employees and customers. Do not touch surfaces in homes with bare hands. Do not touch face, eyes, nose or mouth without washing hands in between touching a person or surface.
John Guru, General Manager
Cardinale Motors SLO Inc | 6000 Wible Rd., Bakersfield, Ca. 93313
COVID-19 Resources
Convenient, virtually and at your door...on your terms
Shop
Work virtually with your dealership to find the perfect vehicle that meets your needs.  See one you like? Your participating dealer will bring it to you to test drive.
Buy
Experience a suite of amenities designed to help you make your purchase remotely with your convenience and safety in mind.
Own
Whether you have just purchased a new vehicle or need your current vehicle serviced, we can come to you.
Please call us for more details on any of these offerings to help meet your needs.

Hours
Monday

9:00am - 8:00pm

Tuesday

9:00am - 8:00pm

Wednesday

9:00am - 8:00pm

Thursday

9:00am - 8:00pm

Friday

9:00am - 8:00pm

Saturday

9:00am - 8:00pm

Sunday

10:00am - 6:00pm
Contact Us Today